HARVEST BREAKFAST MARKS THRINGS' FIRST YEAR IN ROMSEY
Thrings hosted a harvest-themed breakfast reception for clients and guests to mark a successful first year in its Romsey office.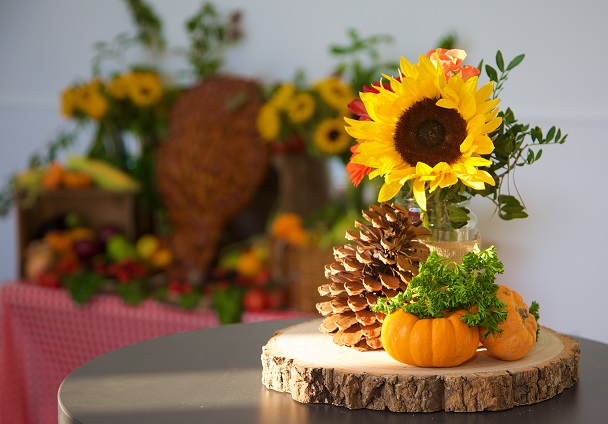 A rustic display of seasonal food provided the backdrop for the event, held in the barn at the law firm's premises at Stuart Court on the Broadlands Estate.
Guests networked over tea, coffee, rolls and pastries as they caught up with managing partner Simon Holdsworth, Romsey-based partners Rachel Brooks, Mark Charter, Sally Pike and Douglas Smith and the wider Thrings team.
The event supported the Countryside Education Trust, which included a donation by Thrings of the fresh fruit and vegetables used in the display.
The trust, based in the New Forest at Beaulieu, teaches children about rural life and farming and hosts children, often from inner city areas, who otherwise may not have the opportunity to experience the countryside.
Mark, who leads Thrings' Romsey-based agricultural team, said: "A year ago we opened these beautiful offices in Romsey, offering city-standard facilities in a welcoming rural setting.
"We've seen the team grow during a successful and hugely enjoyable 12 months, built and maintained relationships with existing and new clients, and reinforced the firm's reputation for excellence.
"This is an opportunity to reflect on that success and for the Romsey-based partners to thank all those clients and staff who have played their part in it.
"We are also very pleased to be able to support the valuable work of the Countryside Education Trust, a charity that is an asset to the wonderful region that we are fortunate to work in."
Thrings moved into Stuart Court after outgrowing its former premises in Southampton and has undergone rapid growth. Today, a 25-strong team of legal and business services specialists support the office's growing client base in the key practice areas of agriculture, agribusiness, landed estates and private client.
To view the full event gallery, please visit our Facebook page.